Create a premium profile
We work in partnership with hundreds of websites and agencies specialized in international education around the world, so students can access the information they need.
Your profile on Ally will get more exposure
Make it easier for agents to send you students
Get more applications with less effort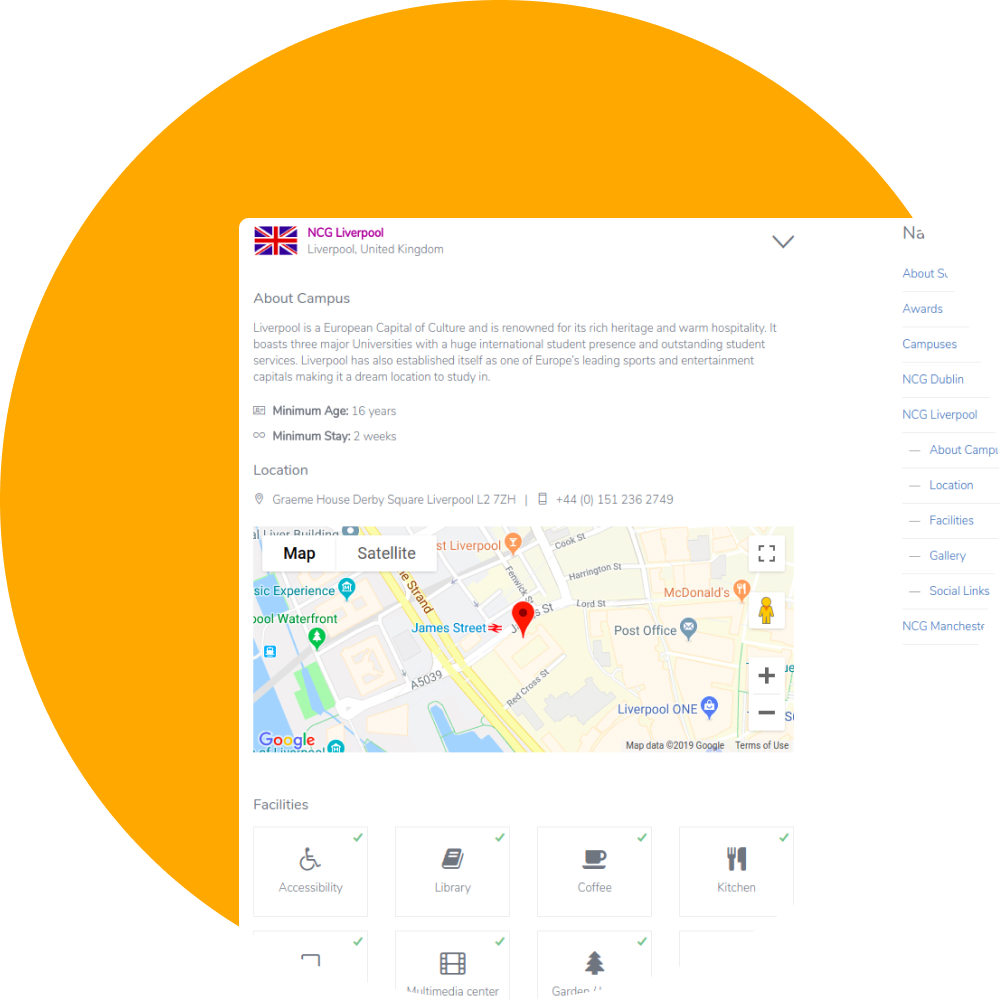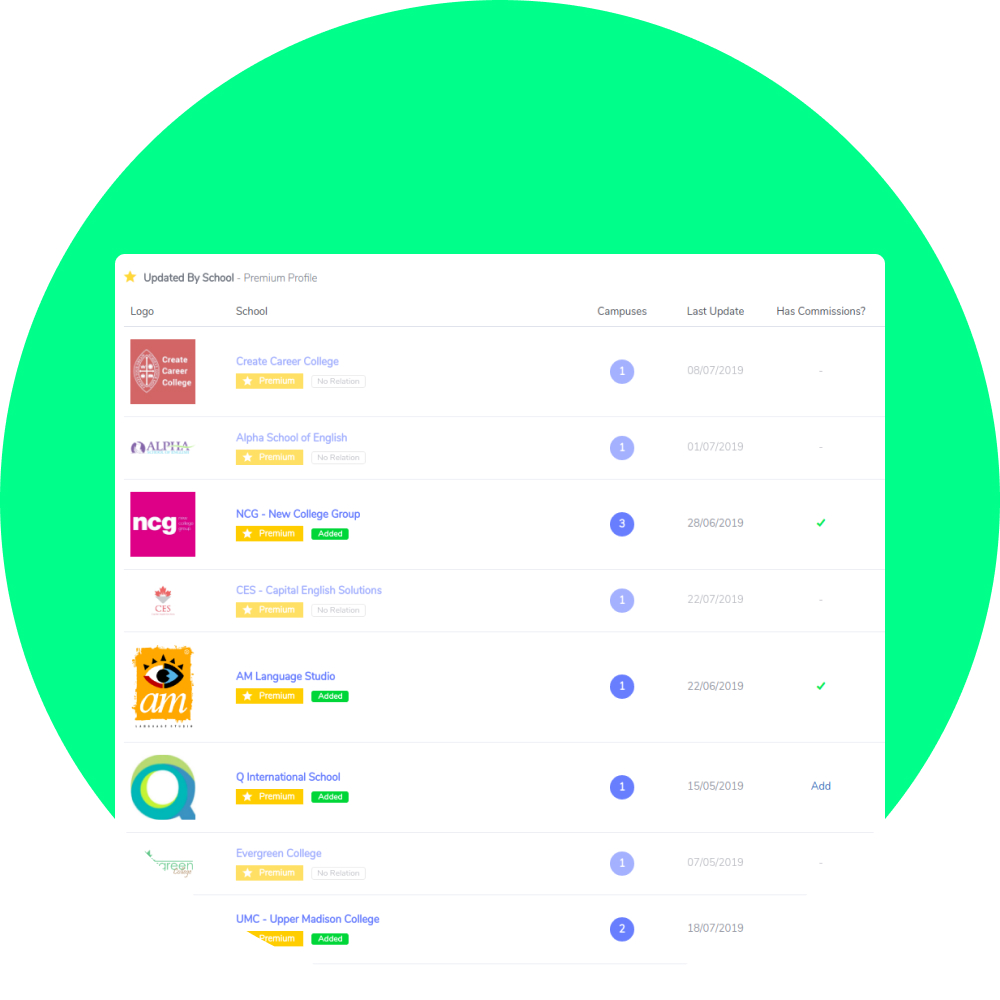 Promote your business on our sales channel
Ally is a marketplace that connects global education partners in real time.
Upload prices, photos, videos and marketing materials
Navigate through our network of agents
Access important KPIs
Receive online applications
Time saving CRM
We save you time at every stage of the sales funnel and you convert more visitors into qualified leads.
Customize your own sales process with pipelines
Track every interaction with your lead
Visa, health insurance, accommodation and flight notification
Upload unlimited documents on student profile
Generate documents automatically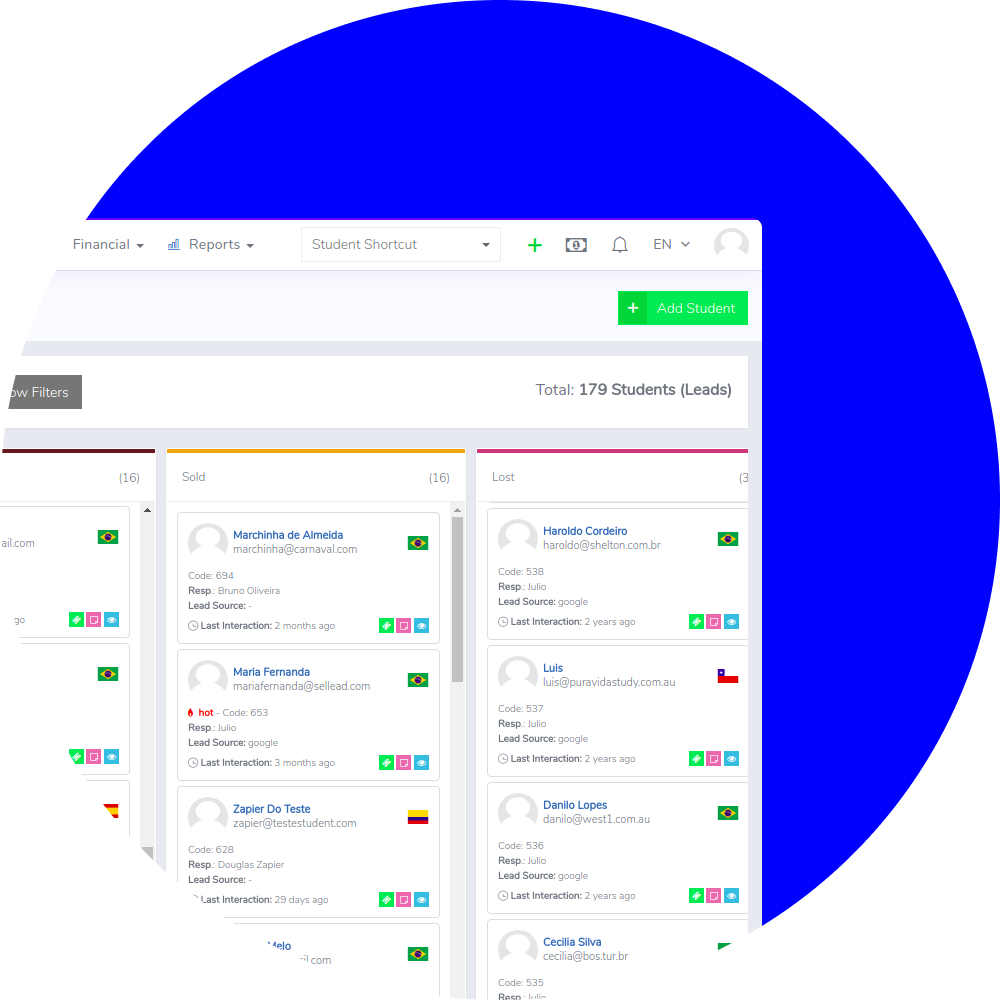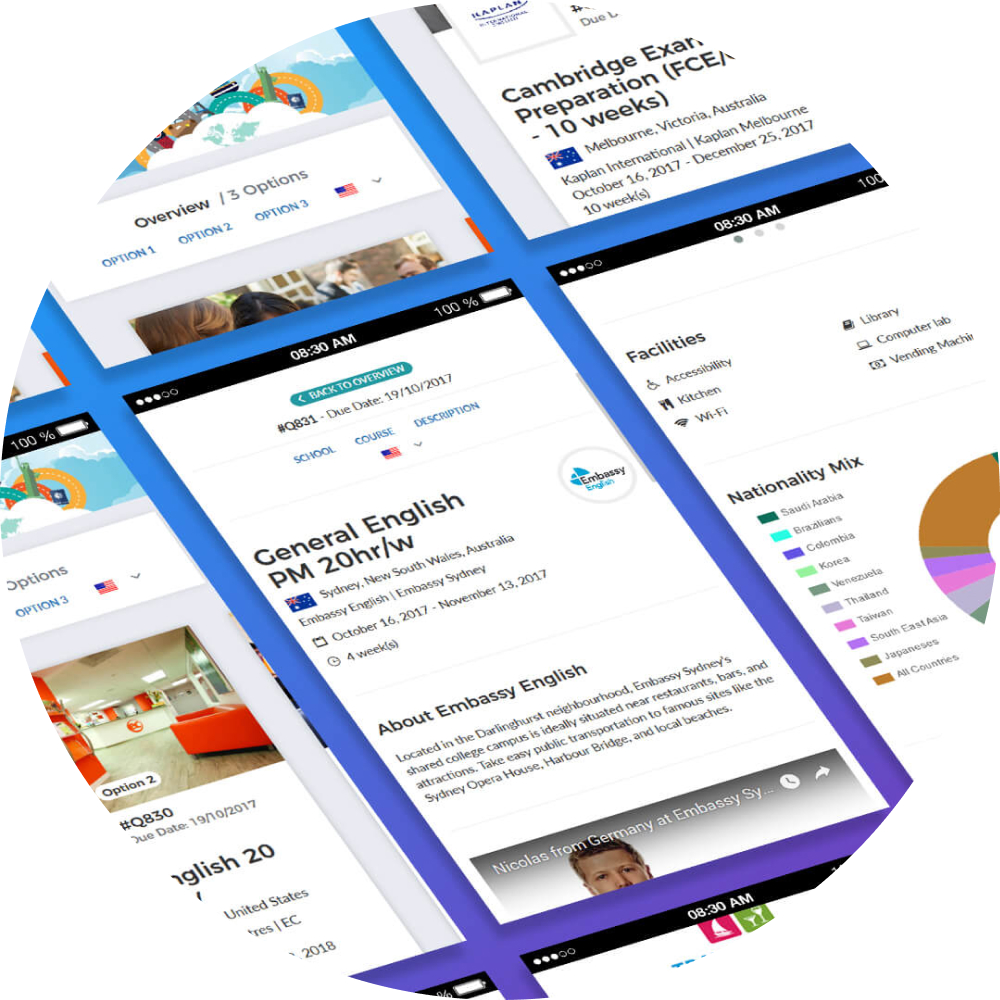 Sales quotes
Create and send sales quotes from the same place you manage your leads.
Mobile friendly
Photos, videos and marketing materials from premium schools
Real time pricing (Guaranteed)*
All-In-One Inbound Marketing Software
Everything you need to launch effective and segmented campaigns that makes people interested in your business.
Get your content in front of the right people
Drive more traffic to key landing pages
Turn leads into customers with less effort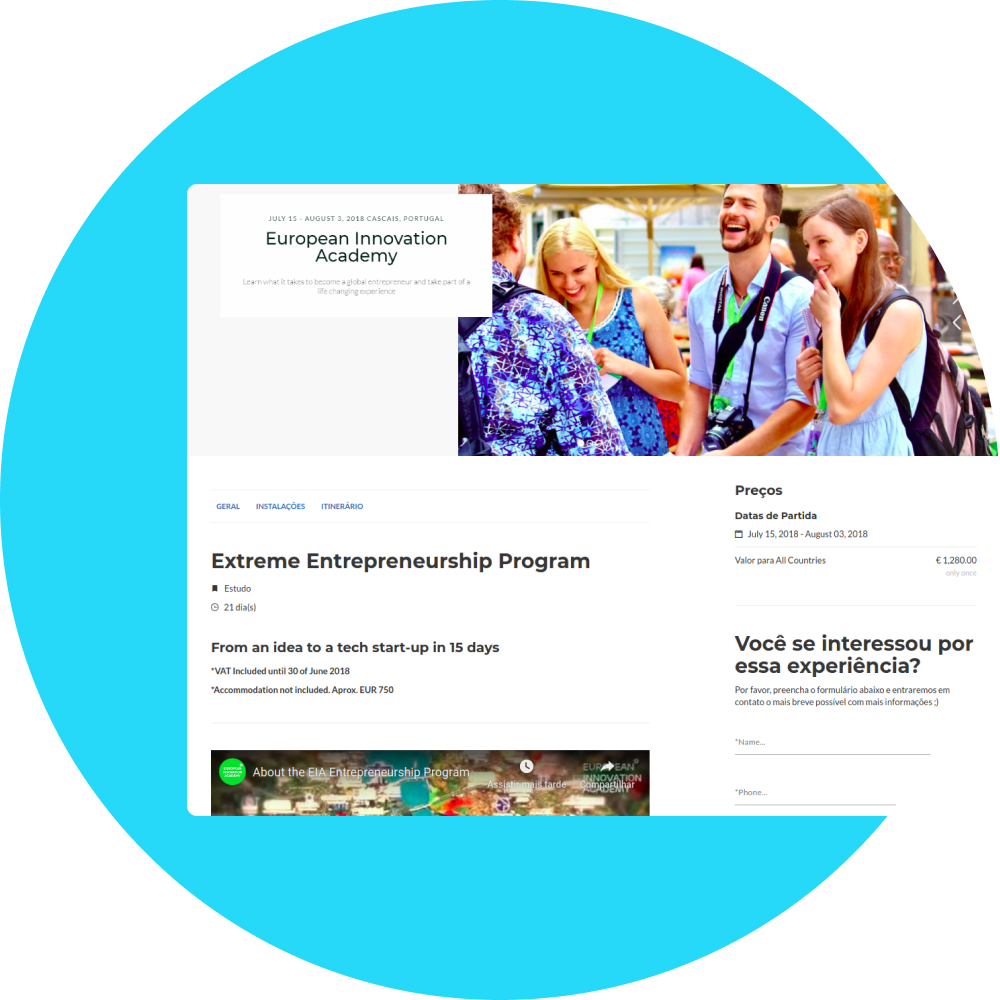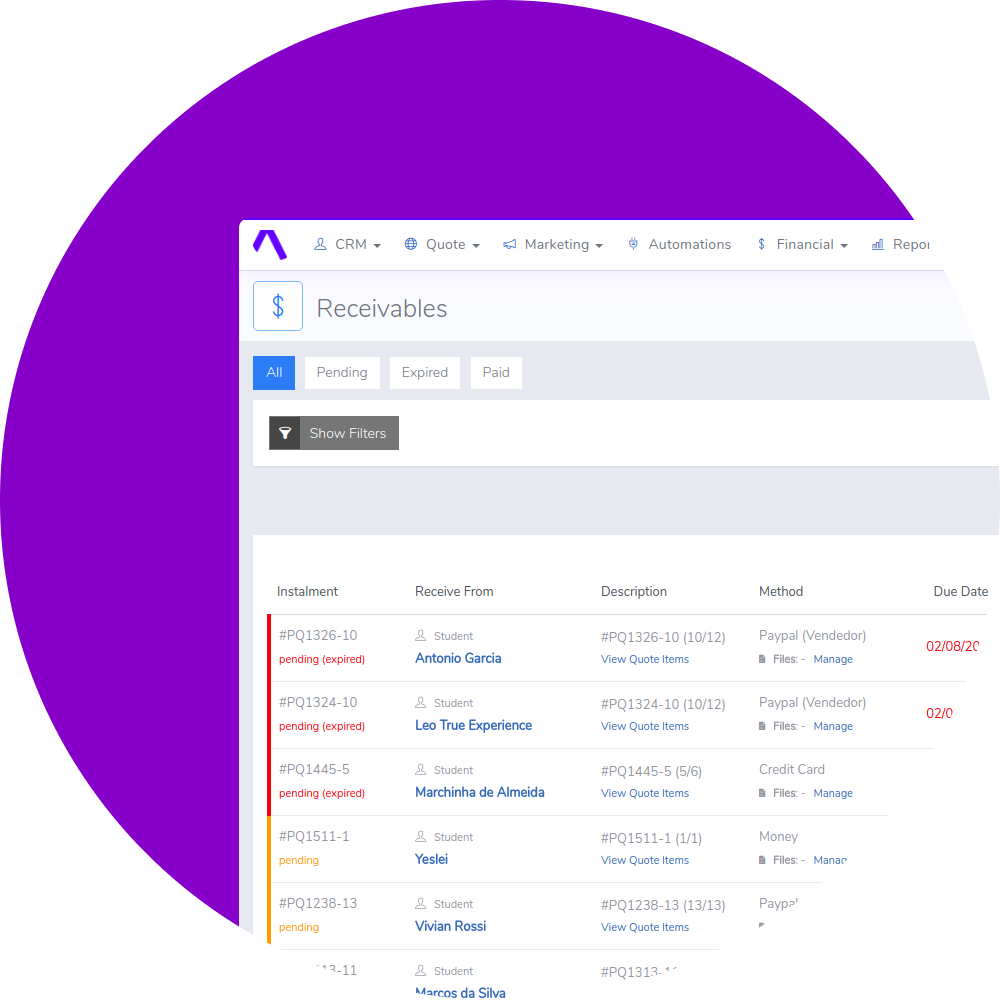 Control your financials
Enjoy accounting software with all the time-saving tools you need to grow your business.
Keep track of payments
Send invoices and manage commissions
Create reports of important KPIs
Control cashflow
---
Pricing
Start promoting your school for FREE, then upgrade accordingly to your needs.
Promote your school
For schools that want to publish their courses, accommodations and service fees, connecting with hundreds of agents worldwide.
Features
check_circle
Access to 1K+ agents worldwide
check_circle
Publish your own courses, accommodations and service fees
check_circle
Create public quotes
check_circle
Multi providers
check_circle
Online applications
check_circle
Custom integrations
check_circle
Unlimited leads
check_circle
Multi offices and permissions
check_circle
Multi currencies
check_circle
Sales report
check_circle
Performance report
check_circle
General behavior report
check_circle
Visa, flights, health insurance and OSHC management
check_circle
Multi sales pipelines
check_circle
Leads perception
check_circle
Well organized agenda with tasks and events
check_circle
Files upload
check_circle
Generate documents and contracts
Enhance your experience in the platform
check_box_outline_blank
Quote + CRM
Keep your operation centralized and get a powerful and integrated platform to manage your leads, pipelines, applications, and much more.
$29.90/month per user
check_box_outline_blank
Financial
Powerful tools to help you manage payment plans, receivables, bills and commissions, all integrated and in one platform!
$20/month per campus
(This module is only available to include with the Quote + CRM plan)
check_box_outline_blank
Marketing
Create unlimited quote templates and unique campaigns to your leads, plus beautiful experiences to attract more students.
$10/month per campus
(This module is only available to include with the Quote + CRM plan)
---
Customize your plan
Choose how many users you'll have
3 users
1 26+
and also the number of your school campus
1 campus only
1 20+
---
(price for

1 campus only

)
(price for

1 campus only

)
radio_button_checked
Monthly
(Default)
radio_button_unchecked
Semiannually
(15% OFF)
radio_button_unchecked
Annually
(20% OFF)
This is the
monthly
cost that we estimated accordingly to the modules and tools you've selected above.
No hidden fees.
We value the transparency with our customers. Book a demo today!
Talk to a consultant